Asbestos kills 5000 people per year in the UK

20 tradesmen per week die of asbestos related diseases

Asbestos can be present in buildings constructed as late as 1999

You can't smell or see asbestos fibres in the air
Safeline has been in business since 2006 operating as an asbestos removal company. We have grown year-on-year and are now asbestos removal experts and trusted partners of many insurers, building contractors, drying contractors, public sector bodies and private companies.
We were set up by analysts Chris and Matt. They wanted an asbestos removal company who they'd be happy to work with if they were still analysts and more importantly, one they'd be happy to have work for them if they were clients.
They wanted to get away from the traditional asbestos removal company and offer one that made the customer central. They succeeded, the majority of our works are repeat business or by recommendation.
There are key things that we think make our business more customer friendly:
Our staff are employed, we do not use labour agencies as we want our staff to have the stability of a full-time job and wage. We train them from scratch to make sure they have excellent asbestos knowledge. With this, they can let you know what they are doing, how they are doing and why they are doing it. They then have a personal reason to make sure that our customers are happy; and our removal jobs are successful.
Our staff are uniformed, our vans our liveried.
Our paperwork is all available on tablets. This means that if you have any questions on licenses, training, DBS or equipment records we can show you immediately.
All files are electronic and can be uploaded to customer portals or emailed to you once works are complete. You then have a record of the works, our details and the confirmation that the working area is safe to reoccupy.
Industrial Asbestos Removal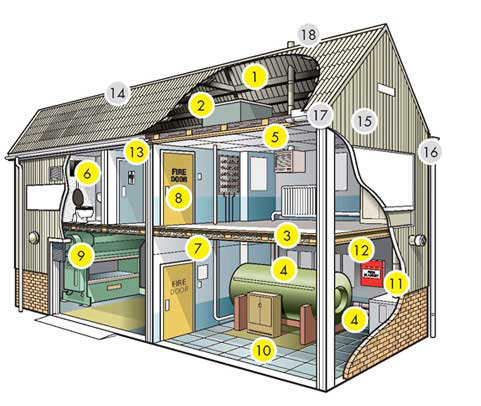 Residential Asbestos Removal
Asbestos Removal & Management Services
Safeline Environmental are an asbestos removal company removing all forms of Asbestos containing materials ranging from small domestic projects to large public sector, industrial or commercial asbestos abatement works. Located centrally in the West Midlands, we offer a nationwide, 24 hours, 365-days service to all sectors of industry, from small domestic clients to large multinational clients and public sector works too.
You're in safe hands with
Safeline Environmental